I'm opening my Art Shop!
I'm extremely excited today, because I can officially announce a project I've been working on for a very long time : I'm opening my own Art Shop!!
So today I want to go over what you'll be able to find inside, and what are my plan for the future :)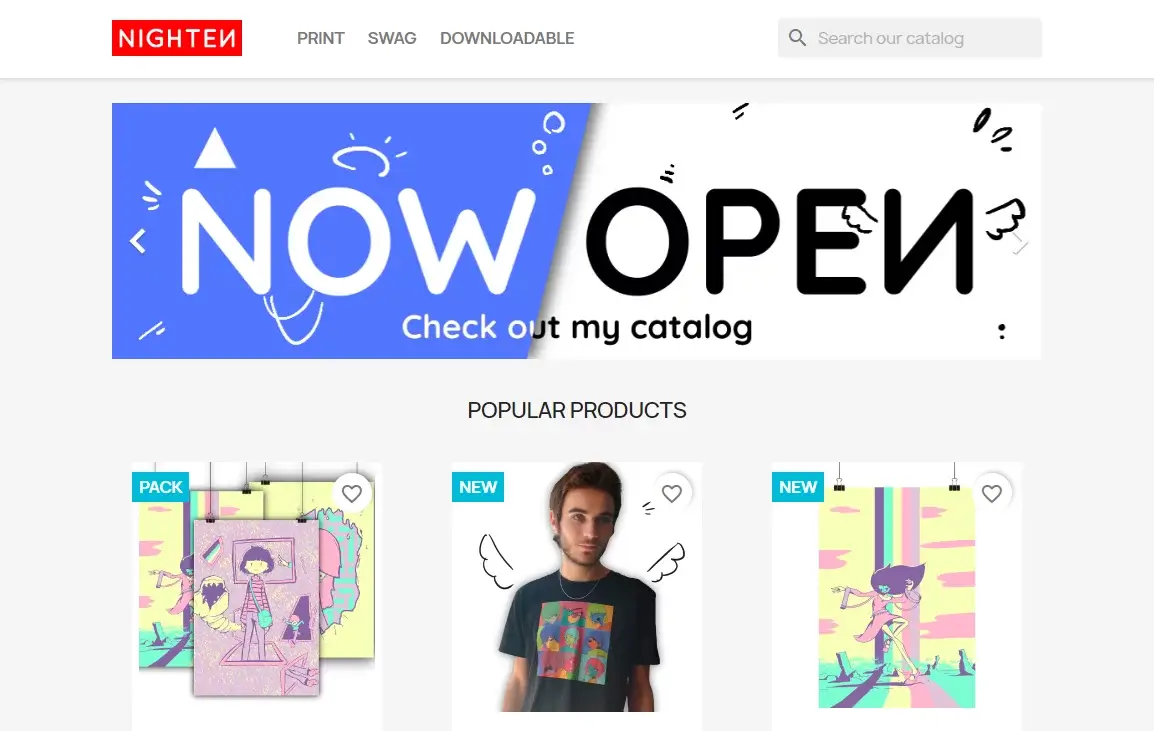 Why open an art shop?
My life has been all over the place these past few month, and I recently got really burnout of programming, which was my main job and hobby for a very long time (and my only source of income since last year).
I now decided to pivot, and reconnect with art and drawing, who always was a huge passion of mine. I want to do more of it, that's why I'm opening this shop!
Even before the official opening, this project gave me already a lot of satisfaction:
I have so much new problems to solve, tools and concept to learn... It's a completely new way to think about business and making art.
It shift the question from "What cool thing could I draw?" to "What would look cool on this person's wall?".
I has a lot of interesting implication, and I can't wait to learn even more from this journey.
What you can already find inside! 😎
If you go to the shop at the time of the publication of this article, you'll already find 13 listing split into 4 series. Let me briefly introduce them to you:
CARE
A series of minimalist and cute posters with adorable phrases to help you go through the days; and remind you to take care of yourself!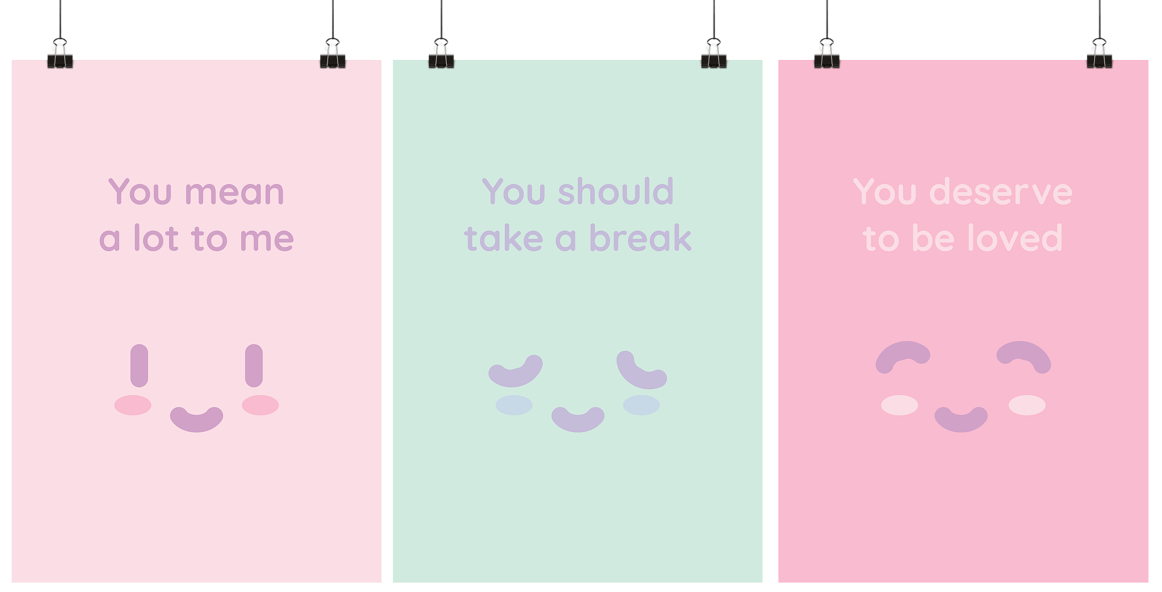 I had a lot of fun making those. I think it's the kind of messages I really needed myself, and I hope it will resonate with someone else.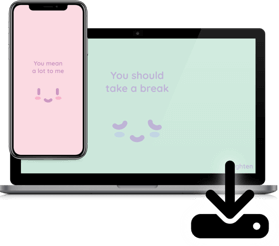 As a experiment, I also created wallpapers with those designs for desktop and mobile. A lot of resolution are available, so don't hesitate to check it out here to carry the positivity with you!
WIRED CITY
"A city with a bright future"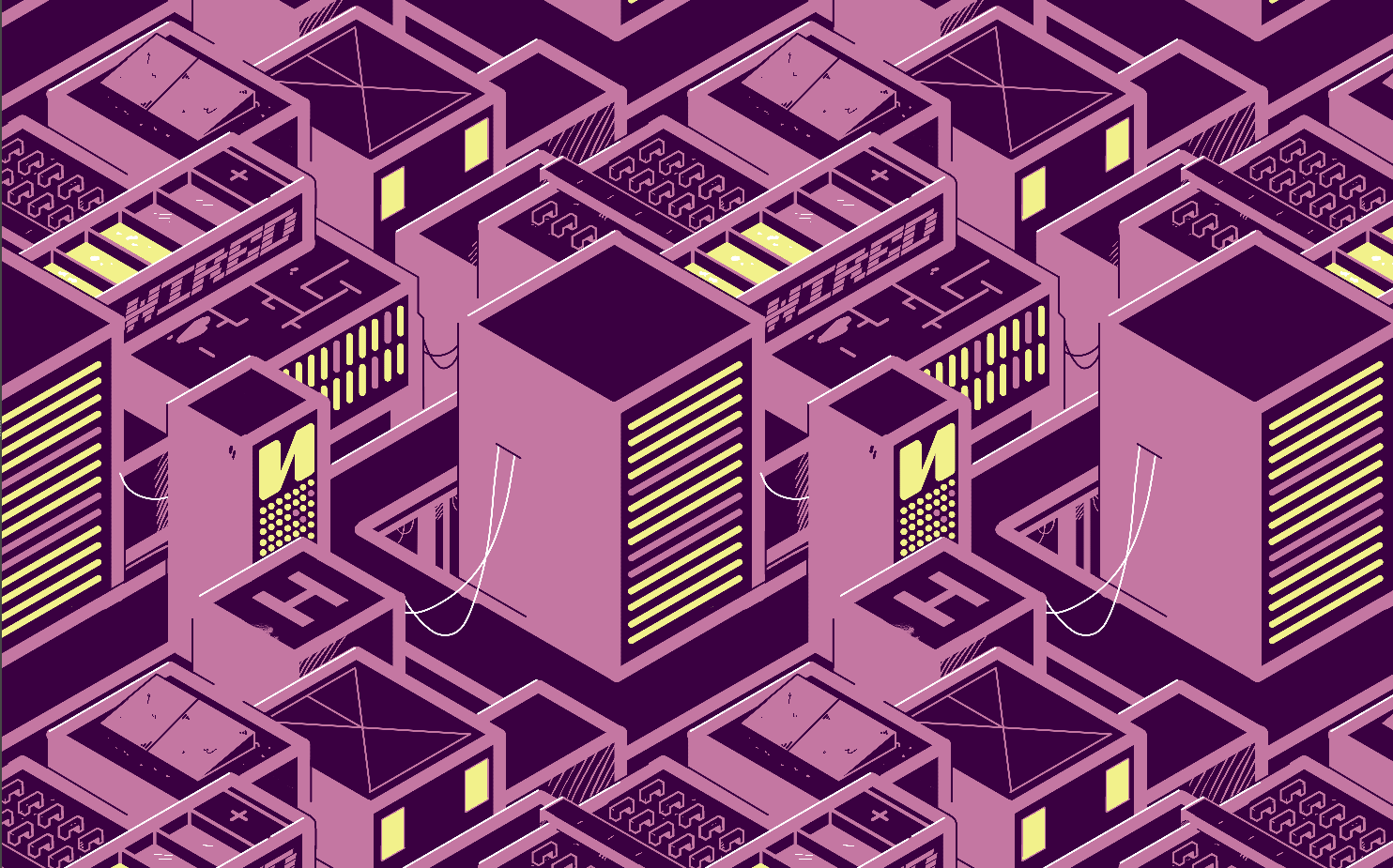 Wired City is part of a project I'm nurturing for a very long time now; you'll know more about it in few month if everything goes well.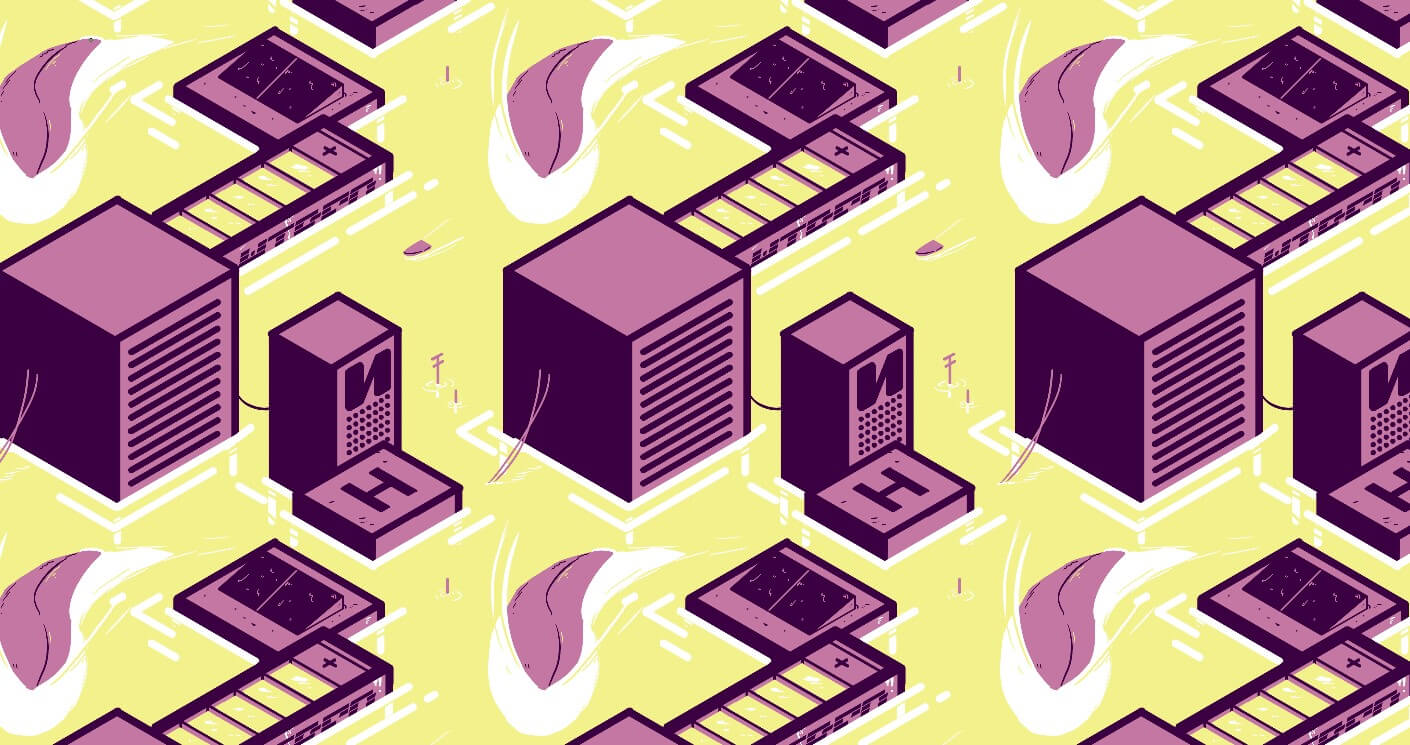 In the meantime, I created two repeatable patterns introducing this vast futuristic city, and the gloom future it is destined to.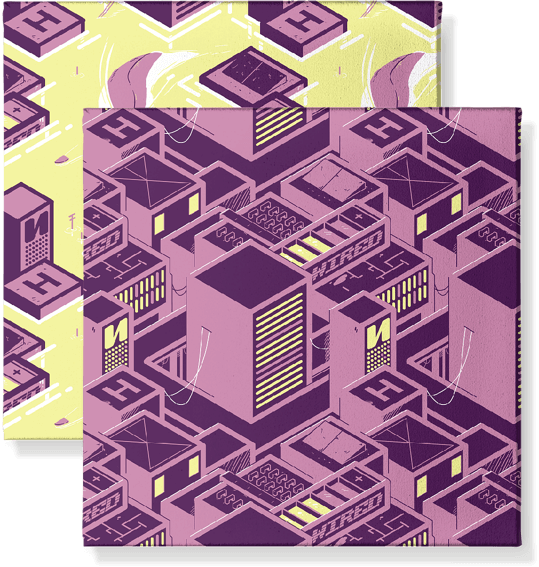 I've never made repeatable pattern before, but it was a really interesting exercise; and I'm personally in love with how it looks on canvas. Before the main project is released I hope to add more design in this series to expand my vision :)
BLESSING
I did this series of weird illustration as a way to reinvent how I create illustration; something I was really not that used to at the time.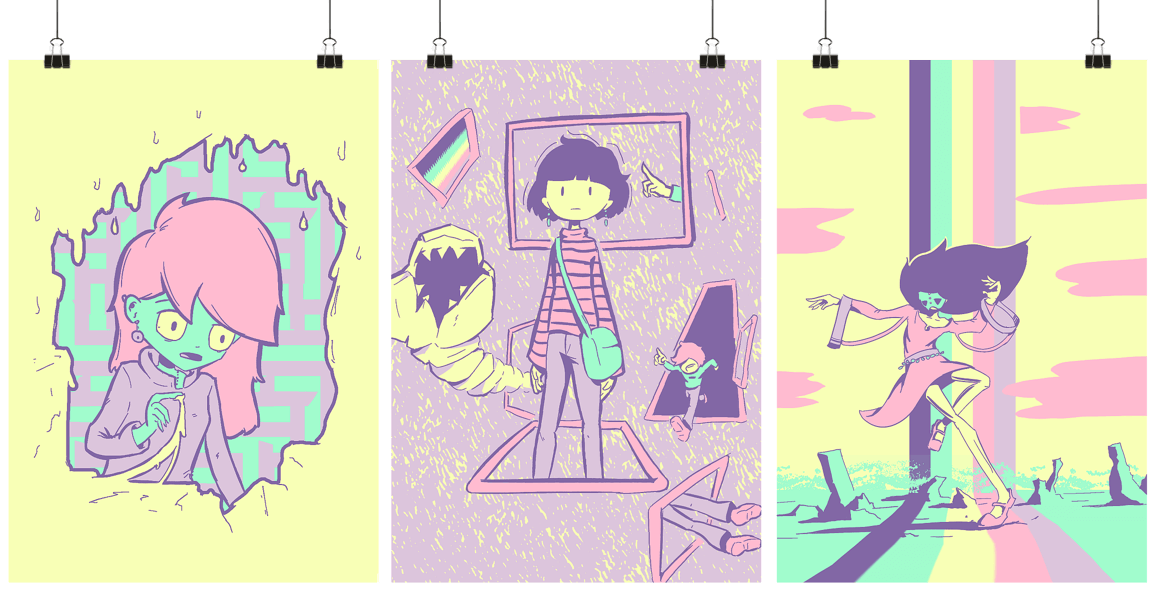 The basic constraint was to use the BLESSING color palette by まるき ; and the description is absolutely transcending:
"This palette is composed by only highlights and no shadow colors, because in heaven there is no place for darkness. After overcoming the trial of using it, you'll be rewarded (hopefully) with the feeling that you became a more enlightened being."
I really think this series was a huge stepping stone for me and my art. The palette was extremely hard to use, but that makes me even more happy about how the result turned out. That's why I decided to offer it as a print!
The palette looks surprisingly good in a printed form, I'm happy to have them hanging on my wall :)
(fun fact for those who knows about my visual novels : the girl with the yellow goo is Léa from "The Devil took my Candies")
WARHOL MOOD
And last but not least, let me present you the first shirt in my shop!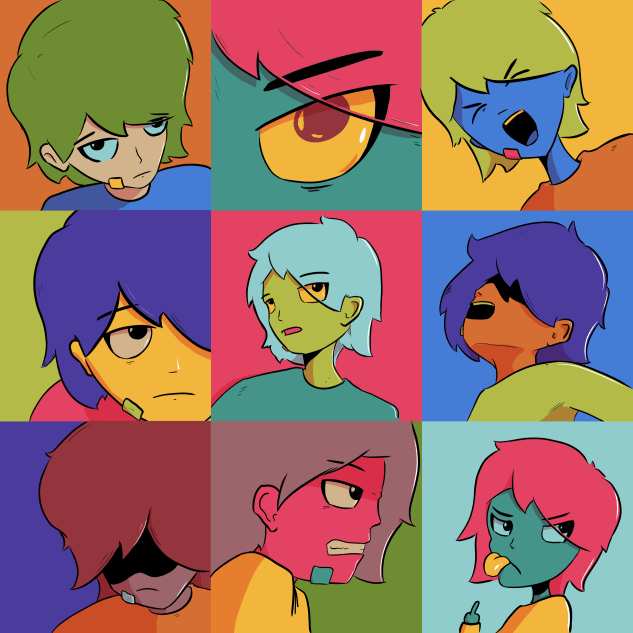 To quote what I said about this piece in my portfolio:
"A Warhol inspired piece, representing shades of sadness and anger. I oscillate a lot between those two these days."
Alright it's a bit edgy, but I do really like the design itself, that's why I decided to release it as a shirt (and I'm doing better now thanks for asking)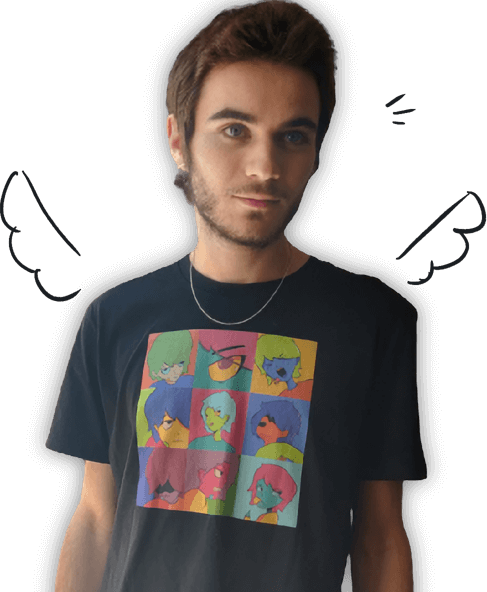 (hey that's me in real life! hi :D )
I already got some compliment about it in real life, so I hope you'll like it as well!
Plus, the design is printed on a eco-friendly shirt, with 100% organic cotton. That's something that was quite important for me, and I'm really happy to be able to provide this kind of quality.
More shirt are planned, but I want to make sure each of them looks good once printed; it's quite a responsibility to have your design on someone's clothes !
What's to come in the future of this shop
I'll go over this more in depth in a future article, but the reason I decided to open a shop in my own website is to have a place were I can freely experiment and expand however I want.
I will continue to upload more design regularly, see what stick and what does not as my skills continue to improve. I'll eventually expand to offer more diverse products, but for now I don't want to stretch myself too thin while I'm still figuring stuff out!
If you want to help me with this goal, I would really appreciate if you would answer a quick survey I put together. It only has a few questions, and it would greatly help me.
Even if you don't plan to buy anything from me, your input is still very valuable in my eyes. I don't want to do this in a vacuum!
---
Thank you so much for sticking to the end of this article!
In the coming weeks I'll post more info about how I choose my supplier, software, my design process and how I plan to promote this store going forward.
You'll see my journey as I try to figure things out, and I hope you'll like to be a part of it!
If you want to stay in touch, I highly recommend you to join my Newsletter Club, where I share more in depth and personal info about what I'm doing and what's to come in the future.
Take care, remember to fill this feedback form if you want to help me out; I would really appreciate it!
NIGHTEИ